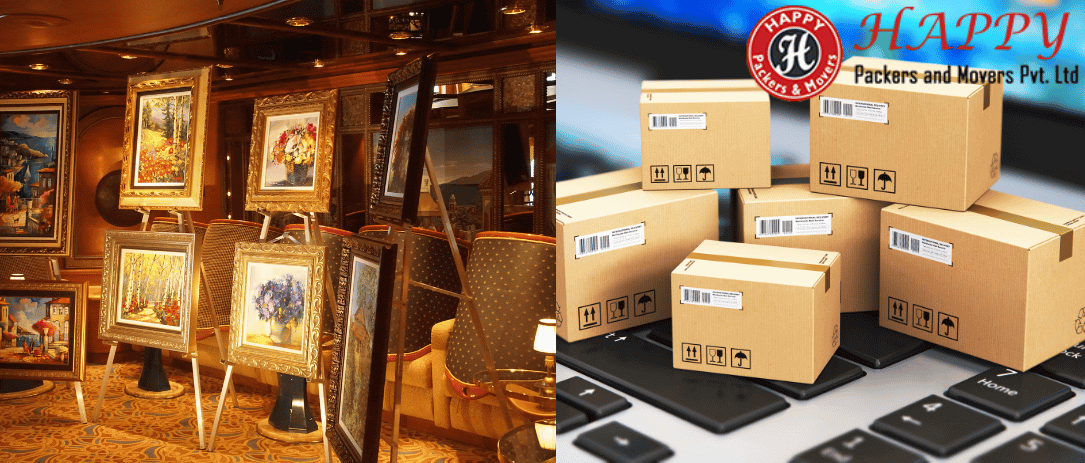 Secure Transport for Fine Arts and Antiques in Pune
Importing fine arts and antiques needs special care and awareness due to their delicate and valuable nature. Here we at Happy Packers and Movers Pvt. Ltd. in Pune provide some key considerations and practices when it comes to shipping fine arts and antiques.
Suitable Packing Materials in Pune: We use high-quality packing materials specially designed for fragile and valuable items. This contains acid-free tissue paper, bubble wrap, foam padding, custom crates, and sturdy boxes. Avoid using newspapers or low-quality materials that could potentially harm the items.
Provide Custom Crating: For valuables and fragile items, we consider custom crating. Crates provide an additional layer of security and stability during transit. They are designed to fit the specific dimensions and requirements of the item, minimizing movement and potential damage.
Weather Control Shipping Option: We maintain proper temperature and humidity levels during transportation to control damage caused by severe conditions. Confer with our professional shippers who present climate-controlled warehouse and shipping options in Pune.
Provide Insurance Coverage: Guarantee that your fine arts and antiques are correctly insured during transit. You can ask us anytime to understand the insurance choices available and consider obtaining additional coverage if required.
Create Documentation and Inventory: We create a thorough inventory of your belongings, including photographs, descriptions, and their calculated value. We keep duplicates of this documentation for reference and insurance purposes. This information can be essential in the event of any damage or loss during transit in Pune.
Provide Tracking and Security: Choose a shipping service that provides tracking abilities so that you can observe the progress of your shipment. Besides, consider the security standards in place to protect your valuables, such as sealed containers, GPS tracking, and protected storage facilities.
Professional Fine Art and Antique Shippers in Pune: Work with professional shipping companies that specialize in managing fine arts and antiques in Pune. They have the ability, expertise, and supplies essential to guarantee the safe transportation of these fragile items.
Custom and Legal Requirements: When shipping internationally, be conscious of customs laws, access, and any legal requirements connected to the transportation of fine arts and antiques in Pune. Study and comply with the exact rules of the destination country to avoid any difficulties or delays.
Pune Packers and Movers Price List
| Shifting type | 80-100 km | 120-500 km | 600-1000 km | 1100-2500 km |
| --- | --- | --- | --- | --- |
| Few items | Rs 4,000-7,000 | Rs 6,000-10,000 | Rs 10,000-12,000 | Rs 12,000-15,000 |
| 1 BHK House | Rs 8,000-10,000 | Rs 10,000-14,000 | Rs 15,000-18,000 | Rs 16,000-20,000 |
| 2 BHK House | Rs 10,000-13,000 | Rs 14,000-20,000 | Rs 21,000-25,000 | Rs 26,000-30,000 |
| 3 BHK House | Rs 15,000-18,000 | Rs 20,000-24,000 | Rs 25,000-28,000 | Rs 30,000-35,000 |
| 4 BHK House | Rs 21,000-25,000 | Rs 28,000-32,000 | Rs 35,000-40,000 | Rs 41,000-45,000 |